Diogo Morgado Fans
Mobile version
Welcome to the unofficial portuguese-english fansite for actor Diogo Morgado, best known for his roles in portuguese soap operas and american hits like "The Bible" and "Son of God". We have no affiliation nor do we represent Diogo in any way. This is just a work of a fan. ENJOY!
Foram ontem anunciados os nomeados para a 4ª edição dos "Prémios Áquila", a única premiação nacional a conciliar Televisão e Cinema português, e cuja votação está nas mãos do público.
Diogo Morgado já havia sido anunciado como membro da Comissão Extraordinária dos Prémios (encarregue de nomear e escolher os vencedores dos Prémios Especiais), e foi agora anunciado como nomeado na categoria de Televisão para "Melhor Actor Principal", pelo seu papel na novela "Ouro Verde" (que também está nomeada para "Melhor Telenovela").
O anúncio dos vencedores será transmitido no canal Cinemundo na noite de 1 de Maio pelas 21h00, desde a Sede da Fénix Associação Cinematográfica, com apresentação de Bruna Quintas e Eduardo Frazão, que serão acompanhados por outros 10 actores, na tarefa de anunciar os 17 eleitos deste ano.
Até lá, podem votar no Diogo em www.premiosaquila.pt (votação única)
Muitos parabéns Diogo!! 😀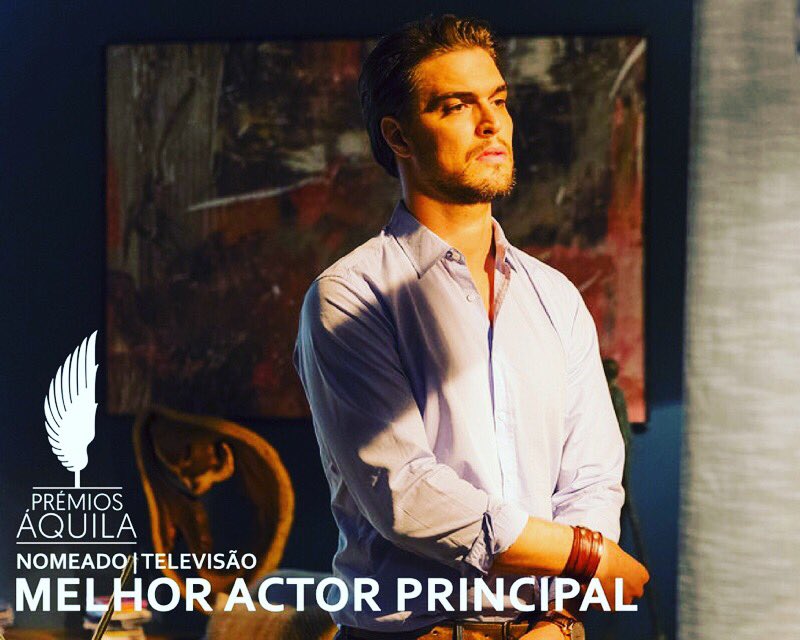 The nominees for the 4th edition of the "Aquila Awards" were announced yesterday, the only national awards to reconcile portuguese Television and Cinema, and whose voting is in the hands of the public.
Diogo Morgado had previously been announced as a member of the Extraordinary Committee of the Awards (in charge of selecting the winners of the Special Prizes), and he has now been announced as "Best Actor" nominee in the Television category for his role in "Ouro Verde" (which is also nominated for "Best Telenovela").
The announcement of the winners will be broadcast on the Cinemundo channel on the night of May 1st at 9:00 pm, directly from Fénix Cinematográfica's headquarters, hosted by Bruna Quintas and Eduardo Frazão, who will be accompanied by 10 other actors in the task of announcing the 17 elected this year.
Until then, you can vote for Diogo at www.premiosaquila.pt (one vote only)
Congrats Diogo!! 😀
As promised, here are the two latest interviews with Diogo that came out in Portugal, this time for the non-portuguese speakers. Just double click on each image below to read both interviews. Enjoy! 🙂
"SHARE MAGAZINE"
"HORA VIP MAGAZINE"
Exibida pela primeira vez nos EUA, a produção histórica tornou-se no programa mais visto da história da televisão por cabo, com uma audiência superior a 13,1 milhões de telespectadores, um dos maiores sucessos da TV moderna.
A minissérie retrata o antigo e novo testamento, nomeadamente a vida de Jesus Cristo – papel entregue ao actor português Diogo Morgado.
«Não existe nada mais difícil do que este papel. Jesus é a personagem mais completa e complexa de toda a humanidade», comentou o actor numa entrevista.
Reviva a história esta Páscoa com a SIC!
Fonte: SIC
Diogo Morgado é o grande convidado desta edição da revista Hora Vip. Uma entrevista sobre o percurso profissional do actor e sobre o papel das mulheres nos tempos de hoje. Vejam todos os scans no link da galeria, abaixo.
In this month's issue of "Hora Vip" magazine, Diogo Morgado talks about his career path and the role of women in the current days. Check out all the scans in the gallery link below.
Soon an english translation will be posted on the site 😉
Gallery Link
Home > Magazine & Newspapers Scans > 2018 > Revista Hora VIP – Março 2018
O novo projecto internacional de Diogo Morgado vai ser uma participação especial num episódio da reimaginação da clássica série da CBS, "MacGyver".
O personagem interpretado pelo actor português vai chamar-se "Carlos", um amigo dos tempos de treino de MacGyver, que se encontra à procura de alojamento em Porto Rico após o furacão Maria.
O título do episódio é "Wind + Water" (Vento + Água) e irá para o ar nos EUA no dia 20 de Abril.
Por cá, a série é transmitida todas as terças-feiras às 22:15 na FOX.
Eis um pequeno resumo do episódio:
– A equipa está em Porto Rico, pós-furacão, para ajudar a encontrar uma nova casa para Carlos, um amigo de MacGyver desde os seus dias de treino BASIC.
– Carlos é baleado e raptado e a equipa tem de o salvar.
– MacGyver também é raptado
Diogo Morgado's new international project will be a special guest appearance in an episode of the reimagining of the classic CBS series "MacGyver."
The character played by the Portuguese actor is named "Carlos", a friend of MacGyver's from his BASIC training times, who is looking for accommodation in Puerto Rico after Hurricane Maria.
The title of the episode is "Wind + Water" and it will air in the USA on April 20.
Here is a short summary of the episode:
– The team is in Puerto Rico, post-hurricane, helping to frame a new house for Carlos, a buddy of Mac's from his BASIC training days.

– Carlos gets shot and kidnapped and the team has to rescue him.

– Mac get kidnapped as well.
GALLERY LINK:
Home > American TV > CBS's MacGyver
SOURCE: SpoilerTV
Na edição deste mês da revista online "Share Magazine", Diogo Morgado fala sobre a sua grande paixão pela realização. Vejam todos os scans no link da galeria, abaixo.
In this month's issue of "Share Magazine", Diogo Morgado talks about his great passion for directing.
Check out all the scans in the gallery link below.
Soon an english translation will be posted on the site 😉
Gallery Link
Home > Magazine & Newspapers Scans > 2018 > Share Magazine – Março 2018