Diogo Morgado Fans
Mobile version
Welcome to the unofficial portuguese-english fansite for actor Diogo Morgado, best known for his roles in portuguese soap operas and american hits like "The Bible" and "Son of God". We have no affiliation nor do we represent Diogo in any way. This is just a work of a fan. ENJOY!
MACGYVER IS TAKEN HOSTAGE IN THE BANK HIS FRIEND MANAGES WHEN ROBBERS ATTEMPT TO STEAL $2 MILLION, ON "MACGYVER," FRIDAY, APRIL 20
"Wind + Water" – While MacGyver is in Puerto Rico helping his friend rebuild his hurricane-damaged home, he is taken hostage in the bank his friend manages when robbers attempt to steal $2 million, on MACGYVER, Friday, April 20 (8:00-9:00 PM, ET/PT) on the CBS Television Network.

CHEAT TWEET: Mac goes to help a friend rebuild in Puerto Rico & winds up being taken hostage in a bank! @kamardelosreyes guest stars @MacGyverCBS 4/20 8PM ET/PT

GUEST CAST:

Diogo Morgado (Carlos)
Source: CBS Press Express & SpoilerTV
Diogo Morgado foi esta tarde o convidado de honra do SPAM 2018, o evento anual da Universidade de Trás os Montes e Alto Douro (UTAD), que premeia o que de melhor se faz nas artes da Comunicação e Multimédia em Portugal.
Durante o evento, o actor português foi galardoado com o "Prémio SPAM Carreira" e simultaneamente entregou os Prémios aos vencedores do Concurso Nacional de Multimédia "A Minha Escola Dava um Filme", levado a cabo no âmbito da 5ª edição do SPAM- Sound, Pictures and Multimédia, que é organizado pelos alunos da Licenciatura em Comunicação e Multimédia e de Mestrado em Multimédia.
Vejam abaixo o video (a partir do minuto 1:08:00) com o discurso inspirador do actor e um outro video com uma pequena parte da sessão de perguntas e respostas.
Foi ainda possível "ouvir" pela primeira vez o trailer de "SOLUM", a 2ª longa metragem realizada pela SLX Productions (com os irmãos Morgado no comando). O filme deverá estrear no final de 2018.
Vejam todas as fotos do evento no link da galeria, abaixo 😉
GALLERY LINK
Inicio > Events, Parties & Public Appearances > 2018 > SPAM'18 Prémio Carreira
O "FamaShow" esteve presente no evento de apresentação ao público e à imprensa do jogo exclusivo para PlayStation "Detroit: Become Human", que decorreu na passada 5ª feira em Lisboa, e que conta com as vozes portuguesas dos actores Diogo Morgado, Victoria Guerra e José Mata.
Diogo fez também parte da rubrica semanal daquele programa, "O Último a Rir".
Vejam, abaixo, as duas entrevistas com o actor 😉
Diogo Morgado esteve presente esta tarde em Lisboa no evento de apresentação da PlayStation Portugal ao público e jornalistas do jogo exclusivo para a PS4, "Detroit: Become Human".
A Quantic Dream levou os visitantes aos bastidores do desenvolvimento do jogo, o elenco da versão portuguesa – Diogo Morgado, Victoria Guerra e José Mata – viu em acção as personagens a que dá voz e nem faltaram alguns exemplares de androides da CyberLife!
O lançamento deste jogo exclusivo PS4, chega a Portugal a 25 de maio.
Vejam todas as fotos na galeria de imagens.
GALLERY LINK:
Home > Events, Parties & Public Appearances > 2018 > Detroit: Become Human | Evento de apresentação – 12 Abril 2018
Fonte: PlayStation Portugal
"Detroit: Become Human", um dos exclusivos PlayStation® mais esperados do ano chega a Portugal no próximo dia 25 de maio e já são conhecidas as vozes portuguesas dos três personagens principais.
Os atores Diogo Morgado (Markus), Victória Guerra (Kara) e José Mata (Connor), foram os eleitos para dar voz à versão localizada em português do tão aguardado título da Quantic Dream, que aborda a frágil coexistência entre humanos e androides, numa história recheada de decisões difíceis, onde cada escolha terá um impacto direto no desenrolar da narrativa.
Para Miguel Cunha, Marketing Manager da PlayStation em Portugal " não há melhor forma de celebrar a chegada dentro de poucas semanas de um título da dimensão de Detroit: Become Human, do que anunciar a participação de três talentos da representação portuguesa, como são o Diogo, a Vitória e o José".
"Detroit: Become Human" chega no dia 25 de maio e permite explorar os vários destinos possíveis de cada uma destas personagens e guiá-las através de uma narrativa ramificada que as força a confrontarem dilemas pessoais complexos e a questionarem a sua própria natureza da sua existência.
Diogo Morgado, Victoria Guerra e José Mata falam sobre as personagens a que dão voz e vida em Detroit: Become Human e sobre o que torna este jogo especial.
Não percam o lançamento no dia 25 de maio, em exclusivo na PS4!
GALLERY LINK:
Home > Events, Parties & Public Appearances > 2018 > Diogo Morgado Dá Voz A "Detroit: Become Human" – Abril 2018
Fonte: Playstation Portugal
Foram ontem anunciados os nomeados para a 4ª edição dos "Prémios Áquila", a única premiação nacional a conciliar Televisão e Cinema português, e cuja votação está nas mãos do público.
Diogo Morgado já havia sido anunciado como membro da Comissão Extraordinária dos Prémios (encarregue de nomear e escolher os vencedores dos Prémios Especiais), e foi agora anunciado como nomeado na categoria de Televisão para "Melhor Actor Principal", pelo seu papel na novela "Ouro Verde" (que também está nomeada para "Melhor Telenovela").
O anúncio dos vencedores será transmitido no canal Cinemundo na noite de 1 de Maio pelas 21h00, desde a Sede da Fénix Associação Cinematográfica, com apresentação de Bruna Quintas e Eduardo Frazão, que serão acompanhados por outros 10 actores, na tarefa de anunciar os 17 eleitos deste ano.
Até lá, podem votar no Diogo em www.premiosaquila.pt (votação única)
Muitos parabéns Diogo!! 😀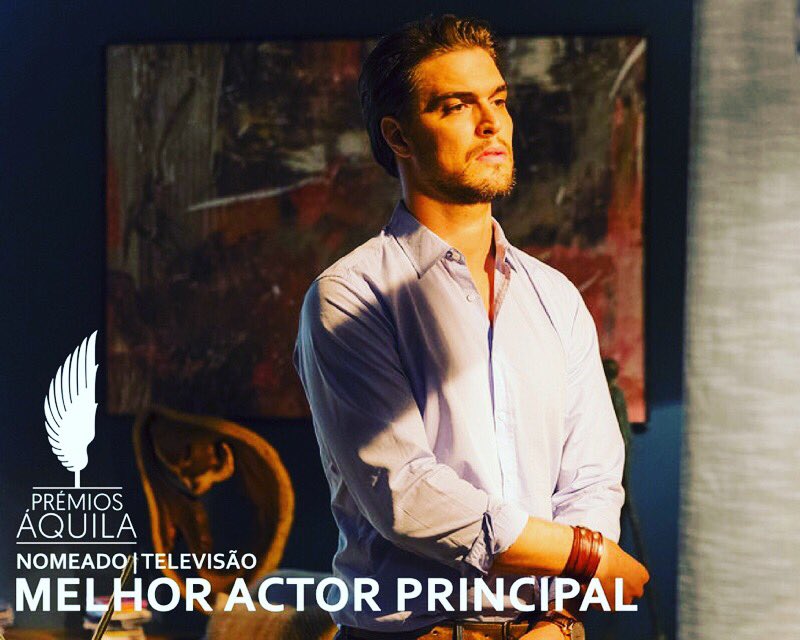 The nominees for the 4th edition of the "Aquila Awards" were announced yesterday, the only national awards to reconcile portuguese Television and Cinema, and whose voting is in the hands of the public.
Diogo Morgado had previously been announced as a member of the Extraordinary Committee of the Awards (in charge of selecting the winners of the Special Prizes), and he has now been announced as "Best Actor" nominee in the Television category for his role in "Ouro Verde" (which is also nominated for "Best Telenovela").
The announcement of the winners will be broadcast on the Cinemundo channel on the night of May 1st at 9:00 pm, directly from Fénix Cinematográfica's headquarters, hosted by Bruna Quintas and Eduardo Frazão, who will be accompanied by 10 other actors in the task of announcing the 17 elected this year.
Until then, you can vote for Diogo at www.premiosaquila.pt (one vote only)
Congrats Diogo!! 😀
As promised, here are the two latest interviews with Diogo that came out in Portugal, this time for the non-portuguese speakers. Just double click on each image below to read both interviews. Enjoy! 🙂
"SHARE MAGAZINE"
"HORA VIP MAGAZINE"